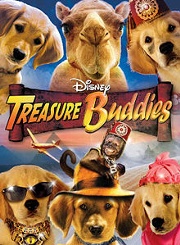 Treasure Buddies
is a 2012 Disney direct-to-DVD family film, directed by Robert Vince and produced by Anna McRoberts. It is the 6th installment in the
Air Buddies
franchise. The Buddies head to the ruins of Ancient Egypt, where, with the help of a monkey named Babi and a camel named Cammy, explore tombs, escape booby traps, and race against a Sphynx cat named Ubasti in search of treasure. The movie was released by Walt Disney Studios Home Entertainment on DVD, Blu-ray, and as a movie download on January 31, 2012.
The synopsis of the movie reads:
| | | |
| --- | --- | --- |
| | The Buddies are off on an all new adventure, and this time their journey takes them all the way to the ruins of ancient Egypt where, with the help of some new friends, including Cammy, a baby camel, and a mischievous monkey named Babi, they'll explore mysterious tombs, dodge treacherous booby traps, and race against a devious cat in search of the greatest treasure known to animalkind, the lost collar of Cleocatra. | |
Richard Riehle as Thomas Howard
Edward Herrmann as Phillip Wellington
Mason Cook as Pete Howard
Adam Alexi-Malle as Amir Sabbagh
Mo Gallini as Tarik
Christopher Maleki as Seti
Ranya Jaber as Farah
Anna Primiani as Cleopatra
Voice Cast
Edit
Skyler Gisondo as B-Dawg
Charles Henry Wyson as Buddha
Ty Panitz as Mudbud
Tucker Albrizzi as Budderball
Genevieve Hannelius as Rosebud
Maulik Pancholy as Babi, a mischievous monkey. He helps the Buddies look for Cammy's parents.
Kaitlyn Maher as Cammy, a baby camel. She goes with the Buddies in order to look for her parents.
Elaine Hendrix as Ubasti, the primary villain. She is a Sphyx cat.
Bonnie Somerville as Mala
Ray Stiles as Slither
Tim Conway as Deputy Sniffer
Ad blocker interference detected!
Wikia is a free-to-use site that makes money from advertising. We have a modified experience for viewers using ad blockers

Wikia is not accessible if you've made further modifications. Remove the custom ad blocker rule(s) and the page will load as expected.