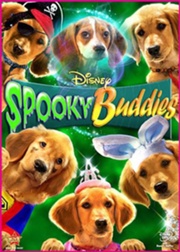 Spooky Buddies
is a 2011 Disney direct-to-DVD family film that is part of the Disney Buddies franchise, a series often referred to as the Air Bud and Air Buddies franchise. For the fifth installment in the Air Buddies series, the team has a Halloween adventure in Fernfield. The movie is directed by Robert Vince, produced by Anna McRoberts, and released by Walt Disney Studios Home Entertainment on Blu-ray, DVD, and as a movie download on September 20, 2011.
The Howlloween Hound and Warwick the Warlock are accidentally released into the town of Fernfield and have plans to destroy the world. The Buddies, consisting of the talking dogs B-Dawg, Budderball, Buddha, Mudbud, and Rosebud, must travel to the mysterious old mansion called Spooky Manor to stop the Howlloween Hound and Warwick the Warlock. Through the adventure, the Buddies join forces with some new friends named Pip, Zelda, Rodney, and Skip, and together they stop the bad guys and save the world.
Harland Williams as Warwick the Warlock
Rance Howard as Mr. Joseph Johnson
Jennifer Elise Cox as Mr. Carroll
Pat Finn as Mrs. Frankendude Carroll
Michael Teigen as Sheriff Dan
Elisa Donovan as Janice
Sierra McCormick as Alice
Skyler Gisondo as Billy
Sage Ryan as Pete
Jake Johnson as Sam
Tucker Albrizzi as Bartleby
Voice Cast
Edit
Diedrich Bader as Hound
Ryan Stiles as Hoot
Debra Jo Rupp as Zelda
Tim Conway as Deputy Sniffer
Frankie Jonas as Pip
G. Hannelius as Rosebud
Ty Panitz as Mudbud
Charles Henry Wyson as Buddha
Nico Ghisi as Budderball
Skyler Gisondo as B-Dawg
Ad blocker interference detected!
Wikia is a free-to-use site that makes money from advertising. We have a modified experience for viewers using ad blockers

Wikia is not accessible if you've made further modifications. Remove the custom ad blocker rule(s) and the page will load as expected.