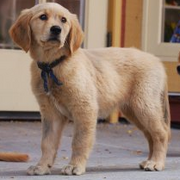 MudBud
is a puppy who appears, along with his brothers and sister, in the
Air Buddies
film series. His favorite sport is volleyball.
MudBud is the filthiest of all the Buddies, hence his name. He wears a blue handkerchief for a collar and usually ends his sentences with "Dude." He likes rolling in dirt patches and hates getting soapy baths. In Snow Buddies, the white snow he was trudging through in washed away all the mud on his fur, much to his dismay. Luckily, when the Buddies got back to Fernfield, MudBud rolled in a patch of dirt to make his fur look the way it used to. He lives in Fernfield, Washington, with his famous all-star father Air Bud (Buddy) and his mother Molly. His owner is Pete, a boy who was at first addicted to handheld video games, until MudBud taught him how to loosen up and be more outgoing.
Ad blocker interference detected!
Wikia is a free-to-use site that makes money from advertising. We have a modified experience for viewers using ad blockers

Wikia is not accessible if you've made further modifications. Remove the custom ad blocker rule(s) and the page will load as expected.